This Spring, we were faced with a challenge that has not been seen in a very long time. The spread of a virus that had the potential to kill with no cure made the world stop turning. We had to re-evaluate what was important to us. We started to think about those things we never had the time to do. My thoughts led me to plan a victory garden. I always wanted to have a large vegetable garden and a few chickens but never had the time to do it. Then COVID happened...
I work for a school system, and we had three days to finish up what we were doing during the busiest time of year and leave our offices, not knowing when we could return. I was at home for weeks with my kids when I discovered just how much we consume on a daily basis. The amount of food I needed to feed my family increased, but the food at the stores was in short supply. It was three weeks before I saw a can of green beans back on the shelf at Aldi. It was insane.
As my anxiety grew, I decided I needed to do something. I'm a do-er. Sitting around the house running out of food and panicking was driving me crazy. So I decided to take this time off as a blessing and start my backyard garden. With very little skill and a whole lot of Google research, I turned a small patch of lawn into a garden.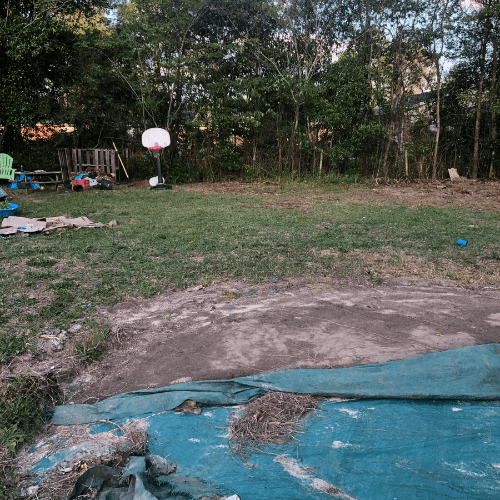 The backyard space we planned to use for our garden.
My victory garden was not without challenges but packed full of blessings too. Here are five things my victory garden taught me:
1. I Discovered the Pride in Hard Work
The work that goes into gardening is no joke. Thankfully this pandemic hit in the Spring when temps were mild because I would have died if it was the heat of summer (along with my plants.) I have never sweat so much in my life. My muscles ached after a day of lifting and moving soil. BUT the pride I had in seeing my garden grow slowly, day by day, was so rewarding!
My husband and son assembling raised beds.
2. Gardening Takes Patience
In a world of technology, I'm definitely used to getting instant gratification. That is not the case with gardening. Gardening is a long game. Now, can you find instant joy in things like beans, lettuce, or other fast-growing crops? The answer is yes. But many, many things take a while (like months) to grow. You have to be patient which was hard for me but seeing the plants slowly blossom over time was very rewarding.
3. The Value of Heirloom Seeds
When I first planted my garden, I didn't really care about what kind of seeds I used. I grabbed some from the dollar store and grabbed plants from Lowe's or Home Depot and popped them in the ground. After the plants matured, I realized that all the plant seeds could not be saved. They were only made for one season, which means that I have to buy them again next year. You may think, well, it's only a couple dollars a pack, but that adds up over a year when you are trying to grow food year-round like I am. If you buy an heirloom variety, you can save those seeds and plant them next year.
Squash plants from big box stores and some beans I grew some seeds.
4. The Joy of Bounty
It's hard to describe the JOY you feel when harvesting your first fruit from your plants. All the hard work, the aches, and pains, it is all worth it when you bring that vegetable inside and make a delicious dish for your family. It's such a great feeling to say, "How did you like it? It's from my garden."
Beans, tomatoes, squash and a cucumber.
I had so much squash this year.
I chose cherry tomato plants because I wanted to have food faster.
I used these in salads and roasted some from tomato sauce.
5. Discovery of A Spiritual Gift
I learned that my spiritual gift is definitely in the garden. Learning, growing food, raising chickens, and sharing my knowledge with others is a gift from God. I can be pouring sweat, but as long as I've got a little shade and my hands in the dirt, I have never been more at peace than when I'm in my garden.
So there are the five lessons I learned from my victory garden. I hope this helps you on your journey to establish a backyard garden.